Durability is a cornerstone of the Metabo HPT brand. For over 70 years, Metabo HPT has engineered tools for the most demanding job sites. The technology they incorporate and the determination to produce nothing but the best is evident in the lifespan and longevity of all Metabo HPT tools.
Metabo HPT MultiVolt Power Tools
Your Choice of Cordless or Corded in One Tool
A revolutionary cordless-corded power tool solution that meets the power output demands on a jobsite. MultiVolt tools accepts a 36V battery OR plugs into an outlet with the AC Adapter. This unique platform changes what's possible on the jobsite by offering the power of a corded tool, the freedom of a cordless platform and the choice to operate all MultiVolt tools cordless or corded. It's Cordless, It's Corded, It's Both!
MultiVolt battery is backwards compatible to Metabo HPT 18V Slide-type Cordless Tools, including cordless nailers.
About Metabo HPT
Metabo HPT is the new brand name for Koki Holdings America, formerly part of the Hitachi group.
Over the last 70 years, Metabo HPT has become a trusted partner for their customers who rely on their tools every day for their toughest jobs. Metabo HPT will continue this legacy. Products will retain the same brand identity: same color, same model numbers, in the same factories, with the same specifications and focus on innovation that customers have come to expect.
Metabo HPT is committed to continuous innovation and improvement through learning from experience. They support construction industry professionals in doing what they do best - building things the last.
Metabo HPT puts experience at the core of its brand philosophy because experience is the best teacher.
Warranty
When you purchase a Metabo HPT tool it automatically comes with a warranty, so no worries about registration. If the product you purchased is experiencing issues, please give us a call at 877-866-5688 and we can assist you in determining the best course of action.
For complete details, visit the Metabo HPT page.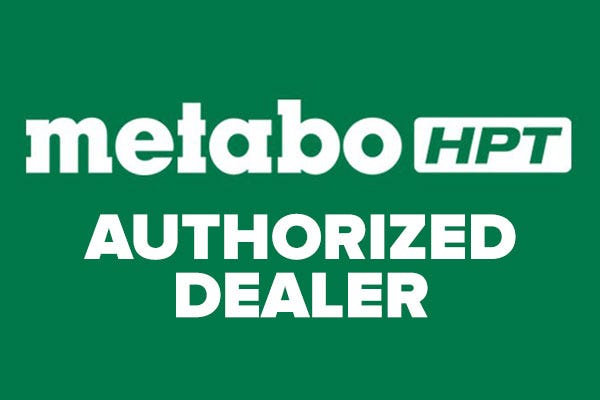 Authorized Dealer
The Tool Nut has been owned and operated by family since it's inception in 1994 and is a Metabo HPT Authorized Dealer.
Fast shipping and order processing

Expert support on all purchases

Factory-trained tool experts