 STAY SAFE. STAY PRODUCTIVE.™
Milwaukee Personal Protective Equipment
Personal Protective Equipment has seen little innovation over the years, driving users to modify their gear to better meet their needs. Milwaukee® has taken the time to understand users' needs and develop PPE from the ground up, delivering Hard Hats that allow users to adapt to each job and safety glasses that can be worn all day with lasting fog-free lenses. Milwaukee® is focused on creating innovative solutions that won't slow users down, helping them STAY SAFE. STAY PRODUCTIVE.™ Explore Milwaukee®'s PPE solutions...
Milwaukee® Performance Safety Glasses
ADVANCED PROTECTION, ULTIMATE PERFORMANCE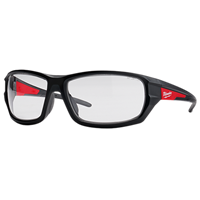 The Milwaukee®® Performance Safety Glasses with Gaskets provide Advanced Protection with Ultimate Performance. The safety glasses have a removeable gasket that protects against debris. The lenses are high-velocity impact tested providing military grade impact protection. The protective eyewear has fog-free lenses so the lenses will stay clear and unobstructed on any jobsite.  Durable anti-scratch lenses withstanding the demands of a job site. Clear and glare-reducing polarized options are available for working indoors or outdoors.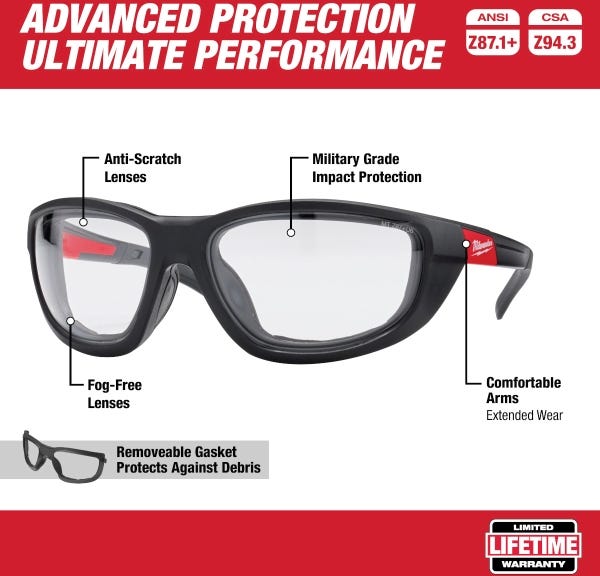 ---
Milwaukee® Work and Cut-Rated Gloves
ULTIMATE DURABILITY, ALL DAY COMFORT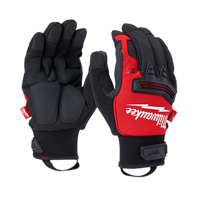 Milwaukee®® is a leader in hand protection and offers solutions that provide ALL DAY COMFORT and ULTIMATE DURABILITY. Milwaukee® offers a full line of gloves for countless applications, including high dexterity gloves for material handling applications to ARMORTEX® reinforced Demolition Gloves for tough work environments. All of Milwaukee®'s Nitrile Cut-Resistant Gloves are ANSI rated and feature SMARTSWIPE™ technology allowing users to interact with touchscreen devices without removing their gloves. No matter the application or the user, Milwaukee® is dedicated to providing trade-specific hand protection solutions that keep users comfortable and protected.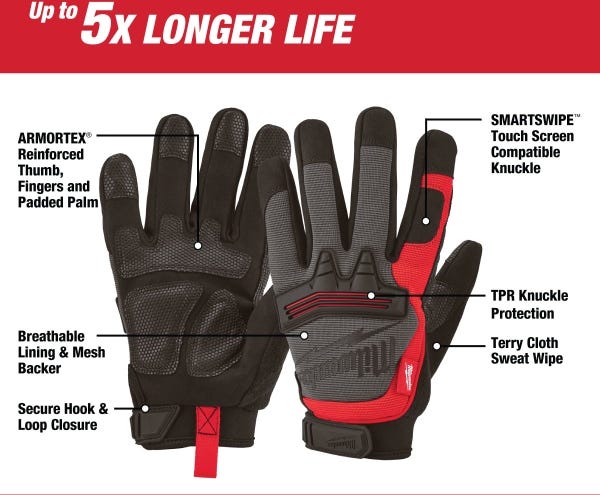 ---
Milwaukee® Safety Vests
CARRY MORE, REINFORCED POCKETS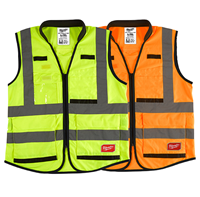 The Milwaukee®® High Visibility Safety Vests are designed to carry more. The high visibility safety vest has 10 pockets and the performance safety vest has 15 pockets including a clear ID holder and internal pockets, equipping users with added storage. All front pockets are reinforced with durable 600D tear resistant materials capable of withstanding rough job site conditions. The performance safety vest has a rear tablet pocket and a padding around the collar reduces pressure around the neck. The safety vests have a quick internal size adjustment providing a better fit as well as a durable pass-through slit for fall protection gear. This allows the vest to be worn in the summer over a t-shirt or in the winter over a jacket. A zipper closure on the safety vest delivers ultimate job site security. The high visibility reflective vests are required when working around traffic going 25 mph or working around heavy machinery. This includes construction, road construction, traffic direction, utility crews, and survey crews. Yellow and orange color options are available, as well as CSA compliant safety vests.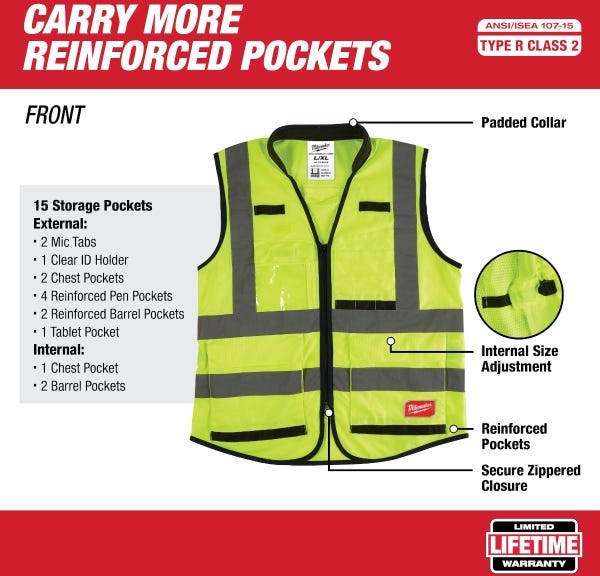 ---
Milwaukee® N95 Valved Respirators
STAY COOL, BETTER FIT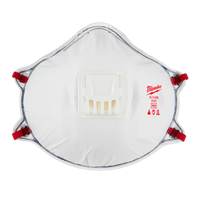 The Milwaukee®® N95 Valved Respirators are designed to stay cool. The N95 Valved Respirator with Gasket features a comfortable tight sealing gasket creating a secure seal for all day comfort. The respirator valves reduces the construction mask's internal temperature by 10°F. The respirator masks feature two soft adjustable straps and a flexible nose bridge to achieve a better fit. The respirator masks are NIOSH N95 approved for non-harmful sanding, grinding, sawing and insulation particles.
---
Milwaukee® Hearing Protection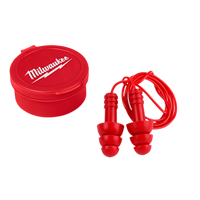 Milwaukee®® Hearing Protection designed to provide users with all day comfort while working on the jobsite. The Ear Plugs are made of soft comfortable foam that expands quickly in the user's ear for a secure seal to protect against hazardous noise. The noise reducing ear plugs are designed with a tapered shape to comfortably fit inside the ear canal, providing users with a Noise Reduction Rating (NRR) of 32dB. Milwaukee® Corded Ear Plugs are designed with comfortable silicon and are corded to easily wear around the neck or hang on a cart while not in use. They have a NRR of 26dB.