Pricing Policy
We reserve the right at any time to reject, correct, cancel or terminate any order for any reason whatsoever. If the price of any product you order was incorrectly displayed on our website, we will provide you with an opportunity to place an order at the correct price.
Brick and Mortar retail stores offer unique services (in-depth product knowledge, customer service, demo opportunities, immediate product availability) as do our websites (convenience, breadth of line, aggressive pricing, super fast shipping, live chat, content).
Promotions offered on one website or retail store may not be available at another. Discounts and promotions cannot be combined unless otherwise noted.
For Example:
A coupon code for festoolproducts.com is not redeemable at The Tool Nut retail store.
A gift certificate from The Tool Nut retail store is not available for use on any of our websites.
Sales Tax
In 2018, the Supreme Court ruled that online retailers, like The Tool Nut, are required to collect sales tax in states where an economic nexus exists. As a result, The Tool Nut is required by law to collect sales tax on all orders in the states listed below. Also, in some cases, The Tool Nut will drop ship your order from a product manufacturer which may require collection of sales tax in other states where the manufacturer has sales tax nexus. Sales tax will be commuted and applied to your order, when applicable, for your review during checkout. Should you have any questions regarding sales tax, please call, email or live chat with us.
Alabama Sales Tax
Seller has collected the simplified sellers use tax on taxable transactions delivered into Alabama and the tax will be remitted on the customer's behalf to the Alabama Department of Revenue. Seller's program account number is SSU-R010380080.
PayPal Bill-Me-Later Offer
The Tool Nut has partnered with PayPal to allow our customers to make purchases more affordable by being billed over the course of 6 months. During check out, use PayPal as your payment method which will redirect you to PayPal's website. On the PayPal website, you will select the "Bill Me Later" option. For more details, visit PayPal's Bill Me Later website.
Refunds and Charges
Credits usually take 7-10 business days from the time we receive your item(s). For drop-ship, special order and pre-order goods, your credit card will be charged 24 hours prior to shipment. For orders placed using PayPal as the payment method, we collect payment when the order is placed. For special order items, like Woodpecker's OneTIME Tools, we will charge your credit card once the order has been submitted to the manufacturer for fulfillment.
Manufacturer Warranties & Guarantees
Please take note of each Manufacturer's unique warranty and guarantee policy before making your purchase. Some manufacturers also provide risk-free money back guarantees. The Tool Nut will honor these guarantees unless otherwise noted. These policies can be found on the product's web page or by contacting us at 877-866-5688. For your convenience, we have provided links to the warranty policies of some product manufacturers below.
Return Policy
If you are not satisfied with your purchase please contact us within 30 days from date of purchase at info@toolnut.com. Prior authorization is required for any returned merchandise. Return fees may be applied at The Tool Nut's discretion to, but not limited to, special orders, out of stock items and orders with quantities purchased in "bulk". All returned product must be accompanied with paperwork, customer contact information and the RMA number provided by The Tool Nut.
There is a 15% restocking fee for items opened or past 30 days of purchase that are deemed returnable and authorized for return by Management. We do not accept returns for used accessories or consumables. If merchandise was damaged during shipping, please save the original packaging and immediately notify our Customer Service Department at info@toolnut.com.
Note: Pumps, ladders, pneumatic tools, climbing equipment, gas operated equipment, lasers, diamond products and consumables are classified as final sale.
All returned items must include all original parts, be in their original packaging, and in the condition in which they were received. A copy of your packing slip, RMA # must be in-closed.
Ship your return to:
The Tool Nut
Att: Returns Department
247 Mahopac Avenue
Yorktown Heights, NY 10598
Satisfaction Guarantee
The Tool Nut Guarantees You The Best Customer Service Experience You'll Find Today!
Whether shopping for your tools online at one of our websites or in our 10,000 square foot store in New York's Westchester county; if you're not blown away, we want to know.
Contact us at info@toolnut.com, give us a call toll free at 877-866-5688 or chat with us live online!
We're here for you. We're consumers as well and we know how you want, expect and deserve to be treated. We promise you we'll do our best and we guarantee you we'll make it right no matter what it takes. Check out our Testimonials and see what others are saying about us. We look forward to making you an honorary "Tool Nut".
Our Family Business Will Treat Your Business Like Family.
Shipping Policies
Do you ship to my country?
We do not ship internationally. We only ship to locations within the United States.
Is shipping FREE?
Shipping is free on orders over $99. For orders under $99, there is a flat shipping charge of $8. Note, exceptions include Rolair, Laguna, Sawstop, Teknatool and other unique or oversized products. These items will have shipping charges noted during the checkout process or you will be contacted by customer service before the order is fully processed to apprise you of any additional charges.
Hawaii and Alaska
Due to the rising cost of shipping, we no longer offer shipping to Alaska and Hawaii.
What does it mean when a product states "Ships from manufacturer"?
In order to better serve our customers, there are some items that we ship direct from the manufacturer to expedite delivery. While most orders are processed very quickly, within 24-48 hours of receipt, there are circumstances when the order may be delayed due to lack of inventory from the manufacturer.
What is Priority Order Processing?
In a rush to get your order? For a small fee, you can select the Priority Order Processing option for shipping and your order will be moved to the front of our queue, expediting shipment. Priority Order Processing does not guarantee delivery time or result in faster transit time. Priority Order Processing is only available for in-stock items.
When will my order ship and how long will it take for delivery?
It's our goal to make sure your order is processed quickly and efficiently.
Generally, if you submit your order before noon Eastern Time on Monday-Friday, it will ship the same business day. Orders placed after noon Eastern Time on Friday or during the weekend will ship the next business day. Please review the product page for the product(s) you have ordered, which will indicate the inventory availability status of the product. Products that are out of stock will be shipped automatically once we receive additional inventory. Products that ship from the manufacturer will be submitted for processing within one business day.
The Tool Nut ships orders using UPS Ground or USPS, whichever provides the best delivery to you, unless expedited shipping is selected. The UPS Transit Time map below gives rough estimates on shipping times from our New York state warehouse. Please note that we cannot ship to P.O. Box addresses, so please provide a UPS deliverable shipping address to prevent delivery delays. The transit times shown are not guaranteed, but indicate expected ship times under normal conditions.
UPS Transit Time Map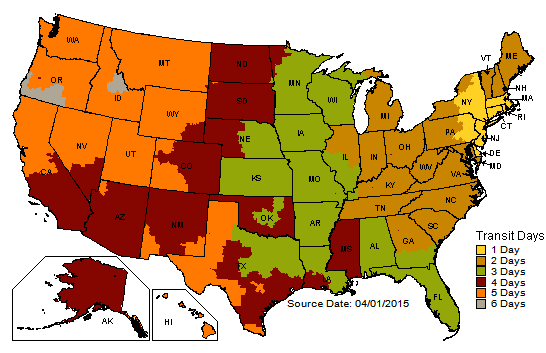 When will my order ship and what are my shipping charges?
Most orders ship same day. Some items do require 1 or more business days to process. Shipping is free on orders over $99. For orders under $99, there is a flat shipping charge of $8.00.
PLEASE NOTE: We ship on business days. Most orders placed after 11am on Friday will ship the following business day, Monday.
Expedited Shipping
The Tool Nut makes every effort to process orders as quickly as possibly to ensure fast delivery. However, we cannot be responsible for delivery times of shipping providers.