Extended Holiday Returns!
We want your gift recipient to love their new tools, and for you to be able to shop with confidence. Orders placed between October 23rd and December 25th are eligible for return through January 15th, providing the product is in brand-new condition and has not been used.
We hope this takes the stress out of buying the perfect gift. We're also always here to help if you need some expert advice.
Holiday Delivery Map
Use the map below to determine the latest date you can order any in-stock product to receive it in time for Christmas with ground shipping. We do offer expedited shipping options for overnight, 2-day and 3-day express delivery as well.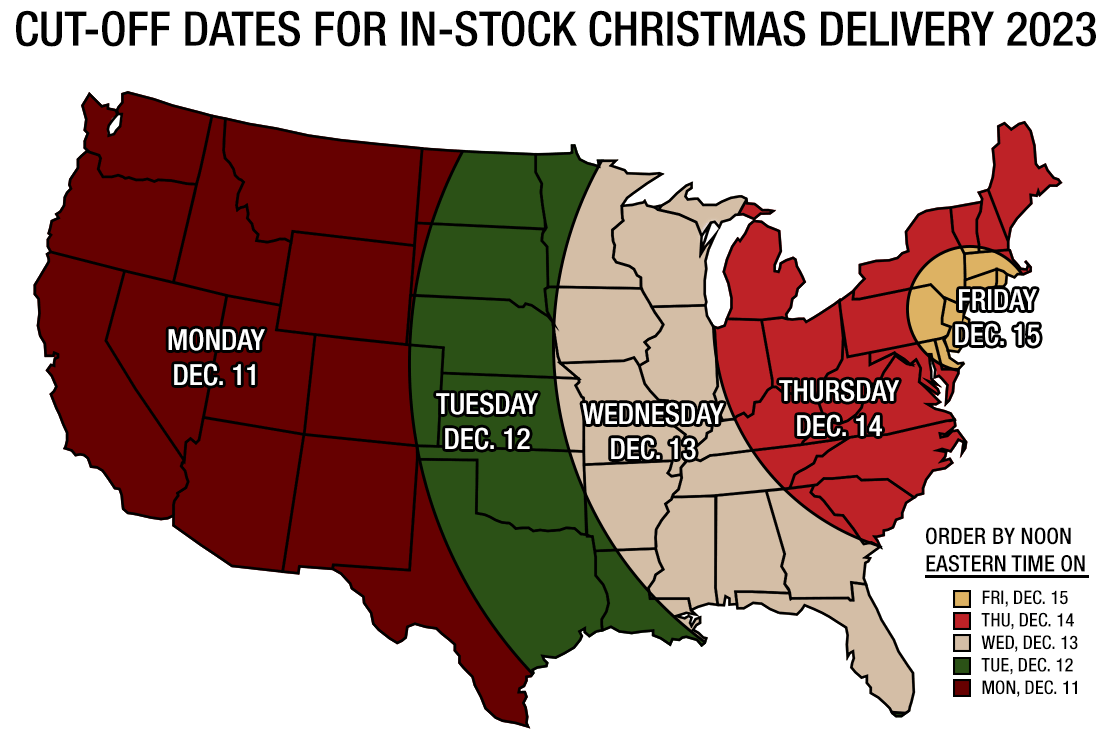 Our Policies
Shipping Policies
When will my order ship and how long will it take for delivery?
It is our goal to make sure your order is processed quickly and efficiently.
Generally, we ship in-stock orders within 1-2 business days. Most orders placed after Noon ET on Friday will not begin processing until the following business day, Monday.
Please review the product page for the product(s) you have ordered, which will indicate the inventory availability status of the product. Inventory available is also reflected in our shopping cart. Products that are out of stock will be shipped automatically once we receive additional inventory. Products that ship from the manufacturer will be submitted for processing within one business day.
The Tool Nut ships orders using FEDEX Ground or USPS, whichever provides the best delivery to you, unless expedited shipping is selected. The FEDEX Transit Time map below gives rough estimates on shipping times from our New York state warehouse. Please note that we cannot ship to P.O. Box addresses, so please provide a FEDEX deliverable shipping address to prevent delivery delays. The transit times shown are not guaranteed, but indicate expected ship times under normal conditions.
FEDEX Transit Time Map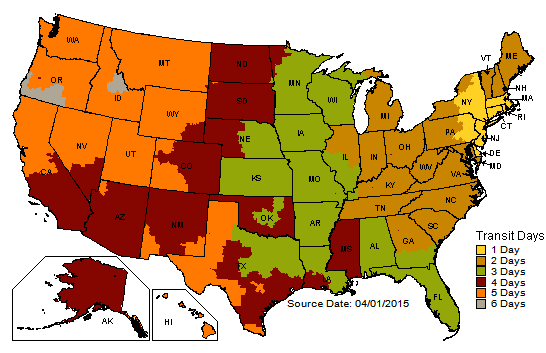 Do you ship to my country?
We do not ship internationally. We only ship to locations within the United States. Due to distribution agreement's with our vendors, we're unable to ship to any freight forwarding companies.
Hawaii and Alaska
Due to the rising cost of shipping, we no longer offer shipping to Alaska and Hawaii.
Shipping Oversized Products
Rolair, Laguna, Sawstop, Teknatool and other unique or oversized products will have shipping charges noted during the checkout process or you will be contacted by customer service before the order is fully processed to apprise you of any additional charges.
What does it mean when a product states "Ships from manufacturer"?
In order to better serve our customers, there are some items that we ship direct from the manufacturer to expedite delivery. While most orders are processed very quickly, within 24-hours of receipt, there are circumstances when the order may be delayed due to lack of inventory from the manufacturer.
What is Priority Order Processing?
In a rush to get your order? For a small fee, you can select the Priority Order Processing option for shipping and your order will be moved to the front of our queue, expediting shipment. Priority Order Processing does not guarantee delivery time or result in faster transit time. Priority Order Processing is only available for in-stock items.
FEDEX Expedited Delivery Options
We offer expedited delivery via FEDEX for most orders. Guaranteed delivery times are based on business days which excludes weekends and holidays. If you require delivery by a specific date and have questions, we encourage you to contact us for more information. The Tool Nut makes every effort to process orders as quickly as possibly to ensure fast delivery. However, we cannot be responsible for delivery times of shipping providers.
Signature Required Shipments
For most orders, a signature is not required upon delivery. To add a signature requirement to your shipment, email info@toolnut.com immediately after placing the order. We will do our best to accommodate your request.
All shipments valued at more than $2000 may require an adult signature (by the customer or the customer's authorized agent at the delivery location) upon delivery. Please ensure that someone will be available to sign for the delivery at your chosen location. This protects you from potential theft or misdelivery.
Prior to shipment, email info@toolnut.com for delivery address change requests. We will do our best to accommodate your request. Once an order has shipped, you can manage the delivery via FedEx delivery manager at https://www.fedex.com/en-us/delivery-manager.html.
FREIGHT DELIVERY POLICY:
All large machinery (Including, but not limited to: Jointers, Bandsaws, Planers, Dust Collectors, Air Filtration Systems, Drill Presses, Oversized Guide Rails (95"+), etc) is delivered on a freight truck. Freight deliveries are unable to be expedited. Liftgate service is included in the delivery. The Liftgate service simply lowers the pallet to ground level; you will be responsible for moving the pallet into its final destination.
Orders being shipped using Freight/LTL as the delivery method are unable to be cancelled or modified after the order has been confirmed with the manufacturer. Orders are usually confirmed with our vendors within 24-48 hours of your order being submitted to the Tool Nut. Please contact us by phone if you wish to cancel your order at 914-621-0200 ext 2.
Once a freight item is in transit, we are unable to modify the shipping address. You will be responsible for any additional fees associated with any changes after the order has been confirmed.
It is imperative that upon delivery, you fully inspect the pallet as received. If you notice any cuts, dents, dings, or other marks on the outside of the pallet, please take photographs and note this on the Bill of Lading (the paper you will sign for delivery). Retain a copy of the Bill of Lading from the shipping company, and contact us immediately. Do not contact the Shipping Company, or the Manufacturer, as we are the seller of the product. Freight claims have a very short window for us to submit to the carrier; we will need this information within 1 day of delivery. We are unable to guarantee that a freight claim submitted after 24 hours of delivery will be accepted.
Reseller Policy
Due to distribution agreements with our vendors, we're unable to sell to other retailers, wholesalers, or other non-authorized resellers on third-party marketplaces. We reserve the right to immediately cancel and refund any orders received from these entities at our sole discretion.
Return Policy
Extended Holiday Returns!
Orders placed between October 23rd and December 25th are eligible for return through January 15th, providing the product is in brand-new condition and has not been used.
Returns
All returns, regardless of their categorization, must include all original parts, be in their original packaging, and in the condition in which they were received (unless otherwise stated below).
A copy of your Return Authorization form must be included with your return shipment to us. If an RA form is not included, this may delay your refund by up to 5 business days.
Please allow 1-3 business days for returns to be processed and 7-10 business days for refunds to post to your account.
Ship your return to:
The Tool Nut
Att: Returns Department
247 Mahopac Avenue
Yorktown Heights, NY 10598
Damaged Merchandise:
If you receive an item that has been damaged in transit, please contact our Customer Service Department at 877-866-5688 ext 2. We will require photos of the damaged product and packaging prior to processing a replacement order. Please email these photos to: info@toolnut.com and include your order number somewhere in the email body.
Defective Merchandise:
If you receive an item that is defective within 30 days of delivery, please contact our Customer Service Department at 877-866-5688 ext 2. We will issue you a Return Authorization form that must be printed and included with your shipment back to us. The Tool Nut will exchange the defective product or issue you a full refund for your purchase upon return.
Non-defective Merchandise:
If you decide that you want to return an item that is not defective within 30 days of delivery, please contact our Customer Service Department at 877-866-5688 ext 2. We will issue you a Return Authorization form that must be printed and included with your shipment back to us. The Tool Nut will issue you store credit or a refund for your purchase upon return. Please see the list of items not eligible for return below.
Warranty/Repairs:
All of the products that we sell come with a manufacturer's warranty (unless specifically stated on the products page). If the product you purchased is experiencing issues, please give us a call at 877-866-5688 ext 2 and we can assist you in determining the best course of action to get your tool fixed or replaced under warranty. Please be sure to provide us with your order number, item number and date of purchase when you call.
Items Not Eligible For Return
Built to order, or custom made products (Including, but not limited to: Rolair Air Compressors, Woodpeckers' OneTIME Tools)
Gas Powered Equipment (Including, but not limited to: Generators, Power Washers, Air Compressors, Cut-Off Saws, Chainsaws, String Trimmers, Leaf Blowers)
Pneumatic Tools (Including, but not limited to: Nail Guns, Staple Guns, Ratchets, Impact Drivers, Die Grinders, Air Compressors, Paint Sprayers)
Laser Levels (Including, but not limited to: Line, Spot, Combination, Rotary)
Ladders, Scaffolding, or Climbing Equipment
Fall Protection Equipment (lanyards, harnesses, etc)
Used Consumables/ Accessories (Sandpaper, Saw Blades, Router Bits, Screws, Drill Bits, etc)
Guide Rails longer than 95" are final sale
Cast Iron Equipment (Including, but not limited to: Table Saws, Shapers, Lathes, Joiners, Planers, Drum Sanders, Dust Collectors
Tool bags
Clothing is not eligible for return, all sales final
Pricing Policy
We reserve the right at any time to reject, correct, cancel or terminate any order for any reason whatsoever. If the price of any product you order was incorrectly displayed on our website, we will provide you with an opportunity to place an order at the correct price.
Brick and Mortar retail stores offer unique services (in-depth product knowledge, customer service, demo opportunities, immediate product availability) as do our websites (convenience, breadth of line, aggressive pricing, super fast shipping, live chat, content).
Promotions offered on one website or retail store may not be available at another. Discounts and promotions cannot be combined unless otherwise noted.
For Example:
A coupon code for toolpros.com is not redeemable at The Tool Nut retail store.
A gift certificate from The Tool Nut retail store is not available for use on any of our websites.
Sales Tax
In 2018, the Supreme Court ruled that online retailers, like The Tool Nut, are required to collect sales tax in states where an economic nexus exists. As a result, The Tool Nut is required by law to collect sales tax on all orders in the states listed below. Also, in some cases, The Tool Nut will drop ship your order from a product manufacturer which may require collection of sales tax in other states where the manufacturer has sales tax nexus. Sales tax will be commuted and applied to your order, when applicable, for your review during checkout. Should you have any questions regarding sales tax, please call, email or live chat with us.
As of October 2019, we collect sales tax in the following states. This list is subject to change without notice.
Alabama, Arkansas, California, Colorado, Connecticut, Florida, Georgia, Hawaii, Iowa, Illinois, Indiana, Kansas, Kentucky, Louisiana, Maine, Maryland, Massachusetts, Michigan, Minnesota, Missouri, Nebraska, Nevada, New Jersey, New York, North Carolina, North Dakota, Ohio, Oklahoma, Pennsylvania, Rhode Island, South Carolina, South Dakota, Tennessee, Texas, Utah, Vermont, Virginia, Washington, West Virginia, Wisconsin and Wyoming.
Alabama Sales Tax
Seller has collected the simplified sellers use tax on taxable transactions delivered into Alabama and the tax will be remitted on the customer's behalf to the Alabama Department of Revenue. Seller's program account number is SSU-R010380080.
Are you purchasing as part of a Tax Exempt organization?
Due to distribution agreements with our vendors, we're unable to process tax exempt status under a "reseller" certificate. If you are part of a non-profit group, government or school, and have a valid tax exempt certificate, please send us an email to info@toolnut.com with the following information:
Organization Name
Purchaser Name
Phone Number
Email Address (this will be used to make your online account, and for sending order correspondence)
Billing/ Shipping address
Legible copy of Tax Exempt certificate
Once this information has been received, allow 3-5 business days for your account to be created and the tax exempt status to be applied. TAX EXEMPT ORDERS CAN ONLY BE PLACED BY PHONE.
Please be sure to submit this information prior to placing your order with us. We're unable to process a refund for taxes after an order has been placed.
If you have any questions, give our Customer Service team a call at 914-621-0200 ext 2.
Refunds and Charges
Credits usually take 7-10 business days from the time we receive your item(s). For drop-ship, special order and pre-order goods, your credit card will be charged 24 hours prior to shipment.
Manufacturer Warranties & Guarantees
Please take note of each Manufacturer's unique warranty and guarantee policy before making your purchase. Some manufacturers also provide risk-free money back guarantees. The Tool Nut will honor these guarantees unless otherwise noted. These policies can be found on the product's web page or by contacting us at 877-866-5688.
Satisfaction Guarantee
Some of our products carry a Satisfaction Guarantee from the manufacturer. If you are not entirely satisfied with your purchase, please contact us within the time frame specified on the product's listing page and we will assist you with a return. Please note: Return shipping costs will be at your discretion. We suggest shipping back using the same carrier that originally delivered your product. Please note: Only Tools are covered under these manufacturers Satisfaction Guarantee; Accessories or Consumables are not covered and will not be accepted back for any reason after being used.